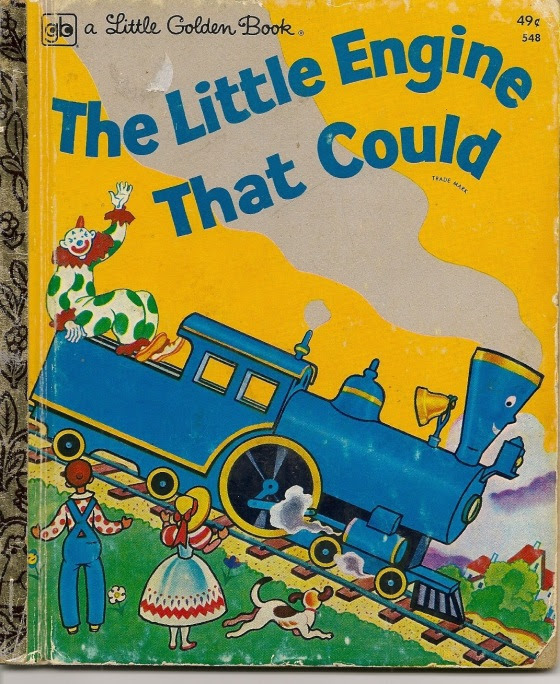 Preface: This is a topic dear to my heart…and I hope we can learn from it together.
Growing up in a home with a pre-school teacher for a mom, children's books are all over the place. These stories are usually based around a single moral message, 1thing that the author wants the child (whatever the age – even 27) to take away from his work.
The cover of this book means something to many of you. But for the others –  "The Little Engine That Could" speaks of overcoming an obstacle; a mountain. A train, that was worried about succeeding.
As it turns out – this little train was first mentioned almost 110 years ago – in a SERMON, published in the New York Tribune. To think…sermons in a public news source? Acceptable? We didn't have blogs back then I guess. Pray that our freedom of speech remains – and pray for those without it.
This choo-choo starts off worried, but with some support, a great positive attitude, and repetitions of "I think I can, I think I can…", he ends up victorious. My parents pushed this message for me growing up – that you can do anything you set your mind to. I mean – if I were to decide to move to Japan, and teach calligraphy – I can do it, well. This is a confidence that was planted long before I can remember, and only began to be thankful for lately.
I want you to know that today, if you grasp NOTHING else, Spiritually. Academically. Socially. You can do whatever you set your mind to. Don't forget it. Don't settle. He is able.
So at this point you're asking – when does the Bible tie in?
I have come that they may have life, and that they may have it more abundantly. (John 10:10b NKJV)
All of us have our mountains. Some know very well what they are and others may have a hard time identifying what is slowing us down from our next growth or our next breakthrough. Brothers and sisters, again I remind you: it's amazing what a little bit of introspection can do for ourselves. Find out what your mountain is.
So Jesus answered and said to them, "Assuredly, I say to you, if you have faith and do not doubt, you will not only do what was done to the fig tree, but also if you say to this mountain, 'Be removed and be cast into the sea,' it will be done. (Matthew 21:21 NKJV)
**Notice – both verses are easy to memorize. 10:10 and 21:21 – take a second to try to stick them to memory…they'll come in handy. Keep His Word near. It's our sword. O – to tell my mountain 'be removed' with faith.
I grew up in the church because my parents pushed me – I'm sure like many of you. I craved music, so enjoying hymns was natural. As I grew, I learned that the hymns and rituals are a means to 1 Goal. I reminded myself this lately, and have been working on prayer – particularly in the liturgical setting. This should only add to the beauty of the hymns (shout out to my boys the deacons) – it's so wonderful when they're prayed in sync, and in harmony.
This past Holy week, we were chanting omonogenees – 'O Only Begotten'. One of the favorites, because of its heart-tugging tunes. A young deacon, maybe 8 years old, was insistent on standing next to the chorus. He was certainly out-of-place.
None of his friends were there. We were praising, singing, and boy, did we sing! Heart and mind, thanking Jesus for going to the Holy Cross. And you'd better believe, all 4-feet of that little guy was singing his lungs out. I mean, we've got our books, iPad, and microphones – focused and doing what we've rehearsed. Meanwhile, this kid is screaming, with everything he's got.
What happened next is what I wanted to pull your attention to. Needless to say, he was living for the moment. Enjoying himself, but not really knowing what he was saying. Amidst the singing another deacon looked down to the little guy, and told him to stop singing. I'd say – his prayer was accepted in front of God. He was offering from himself. But it wasn't acceptable to our limited eyes or ears.
I lost my focus. This sent me into a whirlwind of emotion. I love the hymns of the church. I love the tunes, the lyrics, the authenticity, the tradition – all of it. I was that kid 19 years ago. I was angry, sad, & hurt. I've heard it said to me before. But – I was fortunate to have the little engine's mind-set pushed from my home: optimistic. I reminded myself the speaker was not be aware of its possible repercussions but it carried weight to an 8-year-old me. I've also been on the speaker's side. Many times, the offerings of others are not up to par in our own view. This kid could have been outside playing basketball. He could have slept on the pew, or sat with an iPhone out next to his mom. But instead, he chose to stand and sing.
One

thing

I have desired of the

Lord

,

That I may

dwell in the house of the

Lord

To behold the beauty of the

Lord

,

And to inquire in His temple.

(Psalm 27:4 NKJV)
King David really had the right idea here. He knew what he wanted, and he knew 1thingisneeded. King David figured out that all he wanted was to "dwell in the house of the Lord all the days of his(my) life". How firm a statement? I wish I had this same passion about the church! That is where I should dwell.
Now question: do I want to be in the place that tells me to 'stop singing'?
I want to be in a place that pushes me forward. Our Church, the Perfect Bride of Christ, needs to be a body that encourages. That lifts up. That reminds us to say "I think I can" do anything. God forbid, that we add to the mountains of our brothers and sisters. Rather, we should push and pull them to success.
People – 1thingisneeded: It is on us to make the church a place of welcome. A place that includes, not excludes. Young and old. May we be sons and daughters of encouragement (like Barnabas – that's what his name means). That young boy – could be any of us. Be reminded that we are the Body of Christ, and membership is earned by merit.
So, if you've been on the receiving end of some negativity before, sing. Sing loudly. Passionately. Praise your Creator. But – not just with your vocal chords, but with life. Live in a way that sings to glorify Him – and this will give you that 'abundant life' He's promised. Not in goods or possession, but in purpose.
Prayer is a request for what is good, offered by the devout of God.  But we do not restrict this request simply to what is stated in words…  We should not express our prayer merely in syllables, but the power of prayer should be expressed in the moral attitude of our soul and in the virtuous actions that extend throughout our life…  This is how you pray continually — not by offering prayer in words, but by joining yourself to God through your whole way of life, so that your life becomes one continuous and uninterrupted prayer.

– St. Basil the Great, Homily on the Martyr Julitta
St Basil nails it. His words here are so inspiring. Read them, pray them, and let them sink into our hearts.
1thingisneeded – "I think I can" – believe it. Live it. Preach it.
May we spend these weeks preparing for the coming of our Lord, living out this love. Thereby preparing our hearts to be places for His birth in each of us.
'Tis the season.